You are currently browsing the category archive for the 'if i had a million dollars…' category.
My favorite show of fashion week (even more so now that John Galliano is gone): DSquared.
Oh how I love them. And isn't this presentation genius?!  A music festival? SEriously guys.
Remember back when I used to blog? Me too.
Pregnancy crazy brain has taken on a new OCD form called "what I need to buy for my baby: go over the list about 1000x before going to sleep at night".
So instead of sleeping, I try to decide what I want/need to buy.
For example:
– I want the Timi and Leslie Dawn diaper bag in Cloud Blue. Am I sure I don't want it in black? Which will I like better? Do I need to get the cute mini as well?
– What "essentials" do I really need? I want a trash can with a lid for sure, and probably a thermometer because I see crazy brain's next obsession being "is my baby sick/he feels a little hot", and bottles seem like a general use, not to mention diapers (oh how I dread the thought of buying them already). Do I want a pump? Which pump is the best? Which diaper butt cream is the best? Am I missing essential items that I need/want?
– Will I find a glider on KSL for super cheap that I can cover in a gray fabric? Will I find a gray fabric? WHY DOES NOBODY MAKE MY IDEAL GRAY FABRIC?!
– Am I missing any books for my "now there's a kid outside of me, what the freak do I do now?" library? Isn't there an encyclopedia of new mom-hood that can teach me to breastfeed and read my baby's mind?
– Must find Moby wrap. What color? Too many choices… I need something generally neutral. Black might get too hot, white might get too dirty, colors are a little bit gaudy (or do I love them?). WHY DOES NOBODY MAKE MY IDEAL GRAY FABRIC?!
– Baby will sleep in a playard. Check. Mom will pick out a good one. Will it be gray? I hope it's gray. I want it to be gray. Thank heavens they make one in gray. Should I get a better one and sacrifice it being gray? Should I tell her that it is VITAL that the playard is gray? She can choose wisely, right? Maybe she'll know other features that are more important than it being gray. Are there features that take precedence over the color gray?
Forgive me if my posting continues to be sparse; I might be checked into a psych ward shortly…
Spent the morning staring at Toast.
Too many pretties to be wanted.
I am constantly obsessed with the idea of what people look like when they are at the airport. I have an obsession with airports – people leaving, coming, going… where are they going? Why? Who are they seeing there? Have they been there before? Is it business? Vacation? Family emergency?
I don't know what it is about travel, but people at airports seem to hold some sort of a secret… arrivers have the mystery of where they've been, departers have the mystery of where they're going.
And, being the conceited person that I am, I always love looking at other people's outfits/wonder what I look like or people imagine about me when they see me at the airport.
Luckily, I found Traveling Fashionista so I can stalk all those famous people who seem to manage to look incredibly chic whilst doing their arriving and departing.
I love this outfit because it's awesome.
This is usually what my airport outfit looks like.
The blazer really makes a difference in her outfit.

They also had some cool articles on What to Wear on Airplanes, a 10 piece wardrobe (I'm a firm believer in not over-packing – I prefer to spend a week laying out my clothes and rearranging/editing so I don't have more pieces than I need/will wear), Packing tips from Diane von Furstenberg.
Now to start laying out my clothes for Alaska! Countdown: 6 days!
ElleGirl sent me a preview of Forever 21's fall collections! I had no idea that Forever 21 even thought in collections (well, I guess I knew that the stores were divided into concepts from Tia working at the GIANT F21 in Vegas… but I guess I didn't realize that they weren't JUST arranged that way).
For fall, there are four themes, which I am in love with (I think they picked all four when they thought of me):
Boho
· Does this need an explanation?! It's bohemian – flowy, hippie inspired, with a kind of Coachella vibe…
Vintage Darling
· Girly, lacy, sparkly, tea party fun!
Rustic Cabin
· Hello my obsession with Native American everything… leather + turquoise + outdoors + canvas = smile.
Midnight Angel
· For my inner rockstar – some days you just feel like you want to be awesome.
I love them all – do you have a fave?
Images via Racked
I love when Anthropologie sends pretties to my inbox. Like this outfit.
I think that I love everything about it… the amazing maxi skirt, the mixture of gold and silver necklaces, the chambray shirt, the belted waist, and the idea that I could wear a maxi skirt like this with a giant belly…
Yep. Love.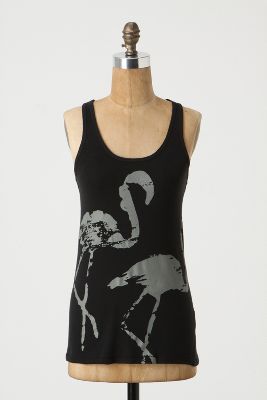 I am kind of in love with this tank.
Unfortunately, my impatience/need for instant gratification/current bodily state is preventing me from getting it.
A moment of silence please.
I spend a ridiculous amount of time looking for a template that I actually like… It would probably be faster to just Polyvore without the template and/or make my own template… but something about finding a template and drag and dropping… I just love it.