You are currently browsing the category archive for the 'what to wear?' category.
I'm still in love with the idea of carry on travel (especially because I strategically had to pack my suitcase in order to fit some clothes for Brad and some food/frying pan/tupperware)… Thank goodness everyone else has it on their mind too!  Here are Piperlime's ideas for lightweight travel…
I am constantly obsessed with the idea of what people look like when they are at the airport. I have an obsession with airports – people leaving, coming, going… where are they going? Why? Who are they seeing there? Have they been there before? Is it business? Vacation? Family emergency?
I don't know what it is about travel, but people at airports seem to hold some sort of a secret… arrivers have the mystery of where they've been, departers have the mystery of where they're going.
And, being the conceited person that I am, I always love looking at other people's outfits/wonder what I look like or people imagine about me when they see me at the airport.
Luckily, I found Traveling Fashionista so I can stalk all those famous people who seem to manage to look incredibly chic whilst doing their arriving and departing.
I love this outfit because it's awesome.
This is usually what my airport outfit looks like.
The blazer really makes a difference in her outfit.

They also had some cool articles on What to Wear on Airplanes, a 10 piece wardrobe (I'm a firm believer in not over-packing – I prefer to spend a week laying out my clothes and rearranging/editing so I don't have more pieces than I need/will wear), Packing tips from Diane von Furstenberg.
Now to start laying out my clothes for Alaska! Countdown: 6 days!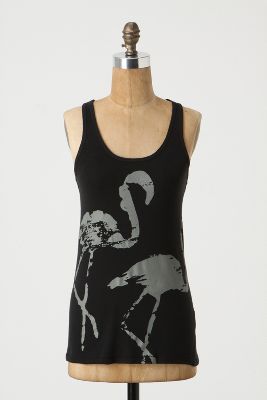 I am kind of in love with this tank.
Unfortunately, my impatience/need for instant gratification/current bodily state is preventing me from getting it.
A moment of silence please.
I spend a ridiculous amount of time looking for a template that I actually like… It would probably be faster to just Polyvore without the template and/or make my own template… but something about finding a template and drag and dropping… I just love it.